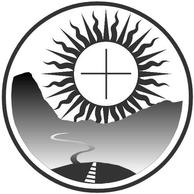 The skyline depicts the hills at the head of the Tira Ora valley, with Stairway to Heaven on the left.
The circle depicts the Holy Eucharist, centre of every Christian life.
The sunburst – placed where the sun sets behind the Tira Ora hills, represents the glory of God, and is from the insignia of the Society of Jesus ("the Jesuits"), founded by St Ignatius of Loyola, whose writings on spiritual discernment and prayer we promote. It is also a stylised monstrance, as used in Eucharistic adoration.